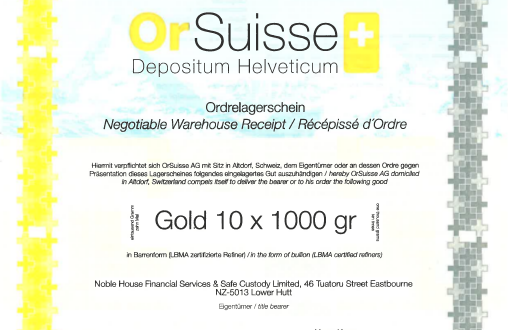 Present Storage Locations
We are storing all precios metals in
Zurich-Kloten (Switzerland)
Hong Kong
Storage Fees & Administration
Decide yourself to pay the fee for 3 years or for 5 – 10 years years.
The longer the fee is paid, the longer you can use your official Swiss regulated Security. Even if you have paid for 10 years and the regular storage prices are rising:
You do not pay any additional fee.
If you retrieve before expiration you receive a reinbursement of storage fee: Upon retrieval, we reimburse you the storage fee for any years that have not yet begun. The amount due will be credited to your account within 10 days after the conclusion of the retrieval.
For the conversion of the balance of storage fees (in grams of gold/silver), the stock exchange price at the time of the issuing of the credit note will be used (value date).